send me stuff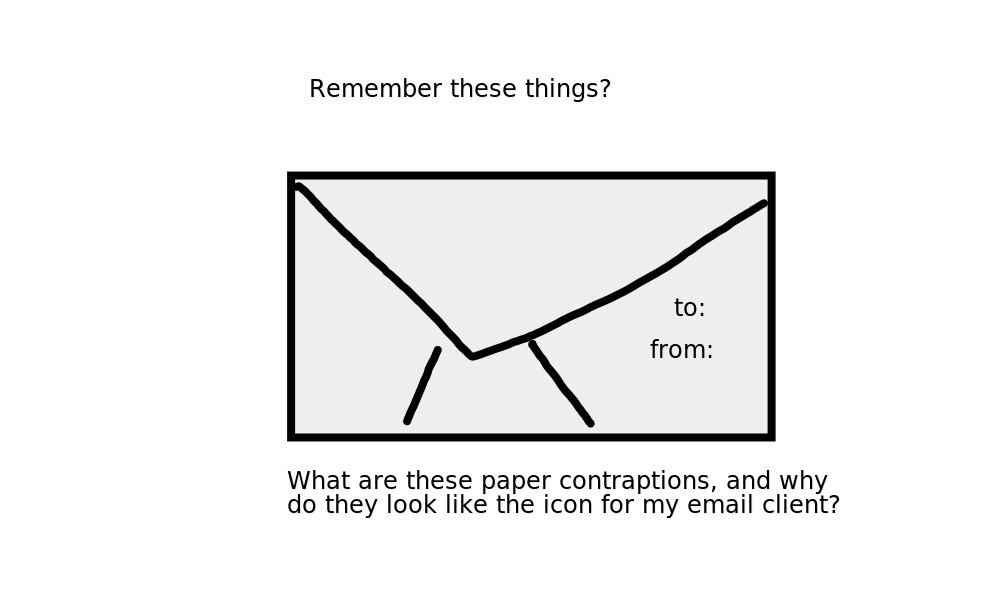 anyone else remember pen-pals?
If you want to get in touch with me, you can do so in a number of ways. I would recommend using free software solutions and encryption to guarantee the maximum amount of privacy. You can reach me through email (I will have an official email through this domain soon) and I will also make a new XMPP account to use for this site so we can communicate on there, too!
I've thought about maybe adding a live chat functionality to this site, but I'm not sure. Let me know if it is something you think would be a good idea, and I will definitely put a little more thought into it.
Right now, the easiest way to get in touch with me is through my email, and for right now, the most convenient email for me is listed below. This email is going to change in the future, so check back if you need to get in touch with me frequently.
rav3nwing@protonmail.com
I can also be reached on a few messaging platforms.
Reach me on Element:
@rav3ndust:matrix.org
Always stay safe while messaging, use PGP!
For best privacy, especially if you are messaging me about something sensitive, please feel free to use PGP encryption to communicate with me (and others, too!). I am thinking about making a tutorial on PGP to help those who may not be familiar with it. For your convenience, I am listing my public key below.
-----BEGIN PGP PUBLIC KEY BLOCK-----
mQENBF85V64BCADEBp9ttdVoaAbW/aRGi0RaDaw8uL5c3+H8CpT57LJuNH3zP/fF TZY23NzRlzTJj7em6xKzQa5eMyhDYPQSz3orAx9+eZfl1vLVa6Wv5McR0WhYE1kL o1x1pCtiuhn+1wo8G+47kMIy9K8DzoUKkLmYLYb/eMP+0xidkhvsR7rKjILOv4Sn 7V8ZLV/qY7lYjOKkUd8gUNCmLR6IuPZ29VTgPJTyb/y29LfK8mp9pI5hjSMJxJvI CuaLJ86fDRtJ4JnhSbxRHXS6snQSxYqkj5K2/JPw2GQO7F81RSTsNLDNaKhgngCv Pvgb5lEM5F18piw4ApKynAaS5rUcRdTbOzz9ABEBAAG0LVJhdmVuIEJsYWNrZmVh dGhlciA8cmF2M253aW5nQHByb3Rvbm1haWwuY29tPokBTgQTAQoAOBYhBO6SdNQt bWHeH/HG1+mf07JyTuJ5BQJfOVeuAhsDBQsJCAcCBhUKCQgLAgQWAgMBAh4BAheA AAoJEOmf07JyTuJ5X60H/0IsmNtzshYotVHUEai960qQHoWKZt1MKIUxPUUItebt 604YvuUKWl8ugI0PZ6KXp5uqrYQ9N3S+kwbarbgOqQ0JFeNOaaPWGj05qqdEWUSs mTfu/2y2vZ8uxmewrtD0IExUAFefxwEhf5qoOLhXfuCCuLiTA6vGrDZ7obY/Cj3K FxwvGyYDeptGSUb1iF0SVF/flDcSS9KmTLrjs2yuvGjV+dOMC/ifTrHNVjQef6BC a2K4G4Z2VDcoT1DV0raTg1yTDlxQTtx/qaNfo3uUSAzVW7z0KWE6+q8frcc9nQ3P WV5YOyYiqsQpBegBQesYvDONzrcyWsk5YqQgw44dkoi5AQ0EXzlXrgEIAN2vKcRf 3bFQsYihpyFnOmSGh5GodZJzxoJJZBOG5uHAzf6R4uBTzH7KA/v+bMYLu/V9jW/u 08hFaNL5unLLm0q63YHW7phAM5HdExkFWtRHbm7Ll2l7pcxUbtNBEyuj1nJnE7X5 MMVasT+QfmVXHbM+Advq85MYEoZzsYgOEhNv2tfWzXUJRJJi48zzXovkGhkgll/6 I606VivIdN8v5Bet8vjnLj8I3Xc0Pd5ditm2gSzbbhc3NS+CGW9Ewpmxo5KZvFUJ lBGVFqFPm+QYksQHphRLnZM0r5Bp4GvV8H8tAa/rbwSqXdlJ/Z17kWeBeluMbRzV R11nHHkcgt0AOlcAEQEAAYkBNgQYAQoAIBYhBO6SdNQtbWHeH/HG1+mf07JyTuJ5 BQJfOVeuAhsMAAoJEOmf07JyTuJ5NfwIAJqESXGAeHw8+V2d4mUDoQuUD3x/xFns 4mASZYbntBMmop6sF3lZSDBPyTSZZo1yNCfpN6fXStickb39ys/ipnTpu+WrxF3j Zx0vov31m0pt10IbuMMOKB8AMvelZN1FBQPCJtJe3oMm8eBH2SiPkoCIoYtXrjNy S+tSyurC7pl4HiZxsFvkwnv0n1Dcvu+NK0C1PAU9lh8xUzgDa9D7O/FRVGjRwr+A xJuCvDmJMxo/CodYk8T8O9SkF2o7HJUcHou7aZfhOpdbOd2vlG/YwlCw3BlT2+C2 OSKTPaLhf1GlF0tWoBbRnHPT095Kmr8QpoLnx56gV03A5cmeOaa1Sz8= =u8uw
-----END PGP PUBLIC KEY BLOCK-----
Here is a PGP signed message from me proving ownership of this key.
-----BEGIN PGP SIGNED MESSAGE-----
Hash: SHA512
Please use only this key to send messages to me. If you get a message from someone claiming to be me using a key that is anything other than this one, then they are an impostor.
-----BEGIN PGP SIGNATURE-----
iQGzBAEBCgAdFiEE3Zn7g3wDazGGNQ3y8DRf9Mm+yFoFAl9i92MACgkQ8DRf9Mm+ yFqXogwAyQeNofXU0LTCSDtnjT38l3OqysgvP2bLwM4eEPWijj7PNXBczxtWvSyu xRaxTrA/F5G3Z4PYn91YtAqCbMLxai9WWphLQsCdrvita176ltaK0aLLnArIYdf5 oFygRHp5cl46kzdcDVztjzABB+CMwvoZE6HYUpg1ljfutCzWYfV1Ctk/MiT+NiMQ au4qk8IrMV/o/Wu2bdyNHZgTzPI/gDUGBAuL5p0x/y/rVZmWKaL6ErGXH+laqIdg DjKT6VuJVuYfjINkFE1LhIXdg0dSLL7Km9FA9Jp2BkL+HL1/fGiF64Uty4gNVi4G 3O7+5GzX1R0rGdhjxy4RRSZis/yg8VA0KIGED1IjQ5q9m7w1z21qHAbyJCGqq/FD HEPg9IS76q17wflqs//nNQt3fFV7MmwkEVZU1WUe/MAXZGUgefnUEHAyZpg8BNs/ YgKr9IAfKR6R4GLgwXTcCIYt10Q392ouiEe10eoGu5gxJk5Y7y/97HeKZJmp4TQj WywTq6Jc =9vAH
-----END PGP SIGNATURE-----